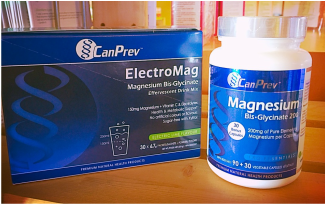 Magnesium Bisglycinate by CanPrev delivers a powerful 200mg
of pure elemental magnesium from magnesium bisglycinate,
a superior form that is easy to absorb and digest!

It is available in capsules, powder and effervescent drink pouches buffered with Electrolytes.

Magnesium deficiency can lead to migraines, leg cramps, heart palpitations, hypertension, anxiety, panic attacks, fatigue, insomnia, depression, musculoskeletal conditions, cystitis, bowel disease and many more unpleasant and dangerous conditions.