Customer Service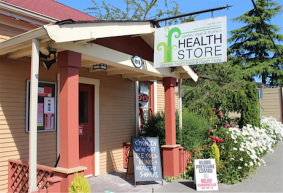 Parsley, Sage & Thyme Health Store
Address 4916 Elliott Street
Ladner, BC, Canada V4K 2Y1

Local Phone 604 946 1022

Email info@parsleysagethyme.com

Webpage www.parsleysagethyme.com

Parking Info Free Parking available

We are committed to the health and wellness of our customers and are dedicated to serving you so that you can stay vigorous and enjoy more out of life. Providing information and knowledge is important to everyone who works at our health store. We, therefore, offer Educational & Nutritional information through our Certified Natural Product Advisors, Digestive Care Specialists and Natural Nutrition Consultants. Our customers have access to our PS&T health store reference library, with books available for reading in our store. We also offer Bulk and Special Ordering for our customers.

---
---
Parsley, Sage & Thyme Health Store Hours

Monday 10:00 am - 5:30 pm
Tuesday 10:00 am - 5:30 pm
Wednesday 10:00 am - 5:30 pm
Thursday 10:00 am - 5:30 pm
Friday 10:00 am - 5:30 pm
Saturday 10:00 am - 5:30 pm
Sunday CLOSED
---
---
Parsley, Sage & Thyme Health Store Map